Since Dick has posted updates on the Colorado fires, my updates are a bit out of order but, hopefully, will still be of interest to our friends and family.

As mentioned in my earlier blog, once Dick and I settled in at the Columbine Inn for 11 days while our RV roof was replaced/repaired, we decided to really be tourists during our "down time".
For those of you who are 62 or older, if you have not yet done so, purchase a lifetime "Senior Pass", which replaces the Golden Age Passport, for $10, which has saved us $20 each time we visit Rocky Mountain National Park (RMNP)! When we visited national forests and U.S. Corps of Engineers parks, we only paid 1/2 of the camping fee, so the Senior Pass definitely saves money.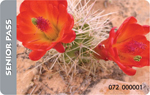 On Tuesday, June 5th, as we drove into RMNP at the Fall River Entrance to locate the great horned owls, we first saw big horn sheep up the hillside.
We had been told about 3 nests of great horned owls with babies - 2 in RMNP and 1 in Estes Park - so we were "on the hunt" to see as many mamas with their babies as we could be found. The first nest was along the road after entering the park at the Fall River Entrance, just before the Cascade Cottages on the left side of the road. All we had to do was look for parked cars and people with cameras aimed up the tree. I was pleased with my shots of the mama standing watch on one side of the tree and the baby in the nest on the other side of the tree!
Dick and I then drove up the road to the Alluvial Fan, which was formed as a result of the Lawn Lake Flood in July 1982. It was a short and relaxing hike to the bridge and falls.
We then drove to the west Alluvial Fan parking lot and took a short hike into the forest to find the second great horned owl nest. Dick, thanks to his squirrel hunting skills, finally located the nest with the babies and knew that the mama had to be in a nearby tree. I was able to get this shot of the mama in an Aspen tree!
On Wednesday, June 6th, we had our first pot luck supper with the other 5 volunteer camp host couples for the Estes Park Campgrounds (Mary's Lake, East Portal and Hermit Park), which was hosted by the Hermit Park camp hosts (Carolynn and Lee and Becky and Terry). The menu consisted of tacos and all the trimmings, with each couple providing a dish. It was great getting to know everyone a bit better!
Dick, Janice and Dave
Camp Hosts visiting with Ranger Shane
Donna, Janice and Michele
Lee, Dave and Dick
Camp hosts visiting with Ranger Vic
Ranger Vic discussing procedures with camp hosts
Around mid-afternoon on Thursday, June 7th, Dick and I drove into RMNP toward Sheep Lakes. When we saw the ranger visiting with numerous guests, we stopped to see if there were any big horn sheep in the area. Talk about being in the right place at the right time! We were fortunate to see 3 mamas with their babies, who had come down the mountain and crossed the road. According to the ranger, it was very unusual for the babies to cross the road, plus these were the first babies to be seen this season. All I can say is WOW!
After the excitement of seeing the big horn sheep, which are my favorite, and leaving RMNP, Dick and I drove to the Estes Park Library in the downtown area, where we had been told we would see another mama great horned owl and her babies. Again, wow! The nest is in the rocks across the pond and the mama was always nearby watching her 2 babies. I guess I never really thought about what baby owls look like, but this was not what I expected. I was also surprised by how well their color blends with the rocks. One evening, the mama was trying to get the babies to fly, which one did but, as we left, the baby was still not certain how to return to the safety of the nest in the rocks. We have heard that, in the last week or so, the babies are flying in the area, so we'll check it out on our next 4 days off duty. Dick has posted his awesome pictures, but I had a few that made me happy, too.
We had been warned to watch for the mama elk in the area, who had charged someone who had gotten too close the day before. We located her on the other side of the pond below the owl's nest, but we kept cars between her and us. This is the time of year that the mamas are very aggressive, either while pregnant or after giving birth. Awesome to watch - but definitely from a distance!
On Friday, June 8th, our last day off duty, Dick and I decided to go for a hike in RMNP. We thought we had plenty of water and food for the distance we planned to go, but, boy, were we wrong! First, we hiked to Cub Lake and, then, decided to hike back to the Fern Lake trailhead - forgetting we still had quite some distance to walk to our car. The hike was up and down over mostly dried up stream beds loaded with rocks. We both had good hiking boots and socks, but still had blisters on our feet after the 5-1/2 mile hike, which took 7 hours - with lots of stops to visit, take pictures and rest. At one point on the trail, we were visiting with a couple and heard someone say "Who dat!" I knew they had to be from Louisiana and New Orleans Saints fans, which they were - from Grand Coteau (near Lafayette). The hike was interesting, but more than we should have tackled at that time. We actually begged a few sips of water from someone at the end of the trail and "hitched" a ride with a couple back to our car - where we drank tons of water. We have since bought a water bladder bag, which will also hold bottles of water and food for the next hike we take. Here are a few highlights of our hike - and I really did narrow them down!
Our initial destination - Cub Lake
Along the trail!
Mama leading babies to safety of brush
Finally - a lunch break at Cub Lake!
Finally - The Pool!
Really?! 1.7 more miles!!
Almost there! Resting along the Big Thompson River!
Once back at the motel, both Dick and I drank lots more water, showered and crashed - without even eating dinner - to get ready for the next few days on duty at Mary's Lake Campground. Saturday through Wednesday were challenging, since we had to be at the campground without our RV, but we survived. One evening, after leaving the campground after 6:00 p.m., we went to Fish Creek Road in search of the beavers we had been told were busy at work. All we had to do was follow the cars along the side of the road and the people with cameras. I wish we had known about this when Colby and Ben were visiting! We have told many campers to go check it out, and they have also been impressed. Dick posted awesome pictures, but here are a few of mine, as well.
I ended our week by catching a stomach virus on the last night in the motel - with a drive to Loveland the next morning to pick up the RV. Dick was so kind and, other than helping with minor packing and loading, he drove while I dozed. We finally got to the campground that evening, unloaded only what had to be done and crashed. Saturday morning, our RV looked like a bomb went off. I was exhausted but was able to start re-organizing and getting re-settled. Unfortunately, that evening, Dick came down with the bug and had it through Father's Day. So much for his fishing and our off duty days!
I am always saying that this lifestyle enables us to meet awesome people along the way. Well, Dick and I started following a blog entitled "Wish Upon An RV Dream" by Karen and Al. We started following them through another blog - "Gypsy Turtles" by Gail and Rick (who we keep trying to meet, but the time has not yet been right). Gail and Rick also follow a couple we worked with in West, TX (near Waco) for a few months last fall - Martha and Lee, whose blog is "Beach Lovers". Ironically, all 3 couples met last year at an RV Dreams rally. A week or so ago, I saw that Karen and Al (who are hosts at a campground a few hours from us) planned a short trip through Estes Park and RMNP, so I sent her a message and she replied. Long story short, Karen and Al came to visit one evening, and we finally met. Hopefully, we will have more visits down the road!
Dick, Al and Karen
We finally had rain - off and on most of the afternoon and evening - and as I was finishing my blog, look what we saw in front of our RV. Rainbows always make me feel good - and especially when there are 2!
That's all for now and thanks for stopping by! ~judy~